Suzuki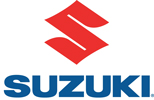 Delivering exceptional value and riding pleasure through exciting and reliable products Suzuki motorcycles come to life through countless hours of testing, uncompromising quality control by the engineers who have unmatched enthusiasm and craftsmanship.
At the heart of UK biking for 50 years
In our 103 years of manufacturing history, 60 years of building motorcycles and 50 years of bringing Suzuki motorcycles to the UK rider we have always strived to provide the very best products by optimising the most advanced technologies available.
We believe that our passion and enthusiasm turns into your fun and excitement, our pride of craftsmanship becomes your pride of ownership.
Our trademark "S" is recognised by people throughout the world as a brand of quality products that offer performance, reliability and originality. Suzuki stands behind this global symbol with a resolute determination to continue developing products that meet the challenges of the next generation.