The Datatag MASTER Security System as part of MCIA Secured
When you are in the market for a new bike,
what are the things you consider?

Power? Comfort? Electronics? Suspension?

How about security?
It may not currently be front page news, but bike theft hasn't gone away. The very things that make bikes a blast to ride, make them attractive to thieves, so it makes sense to consider what anti-theft features come as standard on the bikes you are considering.
Until now, comparing the security kit fitted to different bikes has been quite a challenge, but now there's MCIA SECURED.
Backed by the body that represents the UK motorcycle and scooter industry, MCIA SECURED rates standard fit security kit and gives a star for each item, up to a maximum of five stars.
One star is awarded for each of the following items fitted as standard: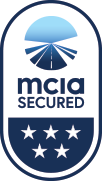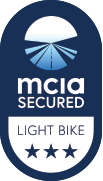 There is also a three star "Light Bike" scheme for bikes and scooters up to 125cc or 11kW where stars are awarded for the standard fitment of:
A list of products from participating manufacturers and their star ratings can be found at mcia.co.uk/en/mcia-secured
Look for the MCIA SECURED logo in showrooms and on manufacturers' advertising when buying your next bike.