HANDS OFF OUR BIKES! CITY CENTRE MOTORCYCLE AND SCOOTER COMMUTERS SEND A CLEAR MESSAGE TO THIEVES IN BIRMINGHAM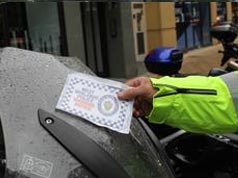 Article Source: http://mcia.co.uk/
Following an increase in the theft of powered two wheelers (PTWs) from Birmingham City Centre during the early part of the summer, a 'lock it or lose it' campaign is proving to be working.
The campaign is being delivered by West Midlands Police, in partnership with the Motorcycle Industry Association's MASTER Security Scheme. It aims to encourage riders to use physical locks and chains to secure their bikes when parking in the city's theft hotspots.
Police and traffic enforcement staff in Birmingham have spent the last few weeks identifying motorcycles and scooters without physical security and sticking a polite reminder letter on bike seats, to encourage riders to consider extra measures to deter and slow down thieves.
A survey of parking bays in the Cathedral Quarter in the city during early August, when the campaign was launched, showed only 40% of PTWs were protected with a chain, disk lock, or similar device. Police reviewed the same parking bays this month and have reported that over 90% of machines are now protected by additional chains and other security measures.
PC Paul Ennis is delighted by the reception of the campaign amongst the two wheeled commuting community:
"People can get a little defensive when they are approached by a Cop, but I have been very impressed by the very supportive comments and gratitude shown to us all, as we deliver this very important message. It has been a really positive experience."
PC Ennis is also very happy with the outcome of the campaign:
"When we set out on this campaign, we had one simple objective: to make riders aware of the risk of theft when parking a motorcycle and to use some additional security. When we started this, the majority of motorcycles in this area were inadequately protected. Today the majority are well protected!"
The messaging campaign will continue into the autumn to keep reminding anyone new to the area to lock their bikes.