SUZUKI LEADS THE WAY IN FIGHT AGAINST MACHINE THEFT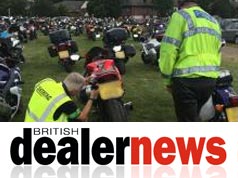 Article Source: http://www.britishdealernews.co.uk/
Suzuki says it is proud to be the only member of the Motor Cycle Industry Association's Master Security Scheme to be tagging 125cc machinery.
The Hamamatsu company announced it is tagging the Burgman 125, VanVan 125, Address 110 and the new GSX-R125 and GSX-S125 as well as its larger bikes.
A press release says Suzuki is "setting itself apart from its competitors as the only major manufacturer fitting Master security kits to bikes in this sector of the market".
Suzuki GB marketing manager Rob Cooper commented: "The reduction of bike theft is something that we at Suzuki are heavily committed to and want to help achieve. Bike theft is a big factor in people leaving motorcycling for good, when owners simply don't replace their stolen machine.
"We want to help owners and riders of all of our models be safer and protect their pride and joy, whether that's a GSX-R1000, V-Strom 650, or a smaller-capacity model, such as the new GSX-R125 and GSX-S125. A machine's capacity will make no difference to an opportunist thief, so it makes no difference to us; we want to help protect all of our bikes and customers, and we're very proud to be the only major manufacturer taking this approach."
The MCIA says motorcycles tagged under its Master Security Scheme are six times less likely to be stolen - of the 66,423 new motorcycles and scooters registered in the UK from the beginning of this year to the end of July 2017, 42,254 were marked and only 78 of those machines have been reported stolen.
Of the 24,169 unmarked motorcycles and scooters, 285 have been stolen. These figures equate to theft rates of 0.18% for tagged machines and 1.17%, for untagged bikes.
Steve Kenward, the now departed CEO of the MCIA, stated: "The Master Security Scheme represents a significant investment by major brands and these figures confirm that the decision to invest in the scheme was the right thing to do. This data is very encouraging and hopefully will persuade those manufacturers not yet marking bikes to reconsider the scheme as a significant benefit to their customers." Early adopters of the scheme were BMW, Honda, Kawasaki, Suzuki, Triumph and Yamaha, with KTM joining later. Major manufacturers not signed up are Piaggio, Ducati and Harley-Davidson.
As well as tagging all its machines, Suzuki - as reported in the September issue of BDN - is also offering a "security bonus" for buyers of sub-400cc machines in London to buy locks.
Pictured is a Master security scheme promotion run at Brands Hatch in 2016.