AMATEUR MOTORCYCLE ASSOCIATION CONTINUE TO FIGHT MOTORCYCLE THEFT WITH DATATAG AND THE OFFICIAL MASTER SCHEME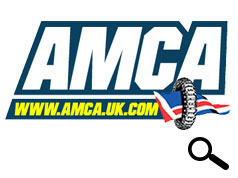 One of the UK's leading motocross race organisations has declared its war on motorcycle theft is continuing by once again partnering with the motorcycle industry's official security initiative, the MASTER Scheme. The Amateur Motorcycle Association (AMCA) has always been proactive in efforts to prevent stolen bikes being used at its club events and with the launch of the Official MASTER Scheme in 2013, the organisation saw an opportunity to increase the pressure on bike thieves by checking for stolen machinery at meetings.
There are now over 175,000 motorcycles fitted with Datatag technology as part of the MASTER Scheme and the AMCA in 2015, embarked on a programme of random bike checks at Club and National Championship meetings. This initiative is set to continue into the 2017 season.
In 2016 Datatag staff supported by AMCA staff stopped and scanned bikes heading for practice for embedded microchips which are installed as part of the MASTER Scheme. Officials also recorded the numbers found on MASTER Scheme tamper evident warning labels. These identifying numbers were cross matched to the main MASTER Scheme database to check for any police interest logged against that machine, which would then be notified to the AMCA and Police for further investigation.
AMCA General Manager Sue Potts was delighted with how smoothly the event went, particularly the attitude of the riders who were stopped, "I need to thank all of our riders for their cooperation and enthusiastic support for our stolen bike operations. Every rider to have their bike checked was happy and delighted that the AMCA were taking such a tough stance against stolen bikes," she explained. "I want to continue to send a loud and clear message to motorcycle thieves; the AMCA will not let stolen bikes be used at our events and we will continue our work with Datatag to ensure that bikes are checked regularly."
Dave Luscombe from Datatag, who assisted the AMCA at a number of the weekend events said "We've checked hundreds of bikes during the season and it was very clear that AMCA members are keen to drive theft out of the sport and their support for Datatag and the MASTER Scheme is very encouraging. I look forward to working with the AMCA at future events and helping them maintain their position as the UK's leading motocross organiser"
Buyers of bikes not protected by the MASTER Scheme, which is helping discourage theft across the industry, or older bikes can be protected with the same level of security as the MASTER Scheme by fitting a Datatag Off-Road Motorcycle system. Available through all reputable dealers the system retails for just £59.99.
For more information on MASTER visit www.datatag.co.uk