WIN JOHN McGUINNESS's MACAU GP SHOEI HELMET!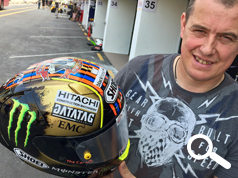 To celebrate John McGuinness's efforts in this year's Macau GP Datatag, one of John's sponsors, are offering one lucky person the chance to win John's top of the range Shoei XSpiritIII lid – one of only three by Mike at paint experts Rage Designs! The one-off design uses a totally unique gold flake metallic paint to commemorate the 50th Anniversary of motorcycles at the Macau GP and John worked with Rage to design something truly magical to mark the occasion.
Not only will the winner receive this incredible lid but also receive four tickets to the UK's biggest and best motorcycle show – Motorcycle Live – where they'll get to meet John himself. This amazing prize can be won in Datatag's free to enter prize draw by simply following @DatatagID on twitter and retweeting their post about the competition to your followers! Simple.
The Macau races, first held in 1954, were originally a treasure hunt around the streets of the town and have grown to be one of the biggest street GP's going and a must see for any race fan. Motorcycles were only introduced in 1967 and the brits have dominated winning all but 15 of the races since then and every single one since 1998. McGuinness joined the likes of Ron Haslem, Steve Hislop, Michael Rutter, Steve Plater and Stuart Easton when he won in 2001 around the 3.8 mile circuit against
The Guia Circuit, a street circuit with fast straights and tight corners flowing around the reservoir of Macau, is recognised as one of the most challenging circuits in the world and this year's race – to be held on Saturday 19th November - will again be a hotly contested event. McGuinness will be hoping to step onto the podium top set as a repeat his 2001 victory aboard his Honda CBR1000RR.
To be in with a chance of winning this amazing prize all entrants have to do is retweet the competition tweet from either John himself or Datatag and follow @DatatagID on twitter. The draw will take place from all new followers after the race on Saturday 19th and the winner will be contacted via twitter where tickets to the show will be arranged.