DATATAG URGE OWNERS TO RE-REGISTER THEIR MACHINES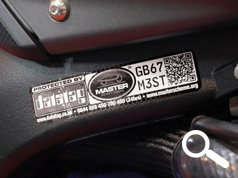 Datatag, the technology provider to the Motorcycle Industry's Official MASTER Scheme are calling on all owners of second hand bikes, first registered after 2013, to make sure they have registered the machine in their name.
Research has shown that some owners don't do this simply because they are unaware that they should and this year at Motorcycle Live Datatag are all geared up to help riders check their machines.
Dave Luscombe of Datatag said 'It is important that owners have their bike registered in their name as without this vital piece of information the police are less able to do their job of tackling bike crime. It only takes a few moments to sort out and after it's done you are protected for ever - there are no further charges or fees with our system. We'll even throw in a free UV torch to anyone having their bike re-registered so they can go home and check the UV etching and Datadots are in place.'
The MASTER Scheme, fitted free on the majority of new motorcycles over 125cc by the selling dealer protects the owner by providing an almost impenetrable layer of identification which thieves hate as it swings the 'risk vs reward' scales back in favour of the owner.
Owners can have their bike details checked for free and if required re-registered for a small administration fee at the upcoming Motorcycle Live Show to be held at the NEC in Birmingham between the 19-27th November. Simply visit the Datatag stand (4B35) with your V5 registration documents and proof of address and talk to a member of the staff there.