BIKE THEFTS DOWN BUT THIEVES HAVE NEW TRICKS UP THEIR SLEEVE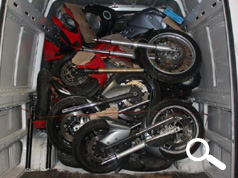 Lock, Shock and No Smoking Barrels.
The good news about motorcycle thefts are they are at a low, the bad news is that recovery rate for those machines that are stolen is very poor... and it's the criminals who are running a slick and professional operation. They even fit their own tracker to YOUR bike to find out where you live and when the bike will be unattended.
We spoke to Ken German, he knows a thing or two about motorcycle theft, for 25 years he was part of the Metropolitan Police stolen vehicle squad, he's now retired from the force but is still very active within the Motorcycle Crime Reduction Group that's run by the Home Office.
With fewer motorcycles being stolen we wanted to know why are the recovery rates so poor? This was something Ken was quick to explain. "The majority of stolen bikes end up out of the country, most will surface again in eastern european countries, the main reason for this being that they are stolen by gangs, it's organised crime. They are so professional if they were businesses they'd probably win awards. The people at the top 'employ' a league of lower minions, these are the people who steal the motorcycles, the risk of getting caught and punished is far out weighed by the financial benefits that they earn by lifting bikes".
To understand the image Dr Ken paints we need to look at the bigger picture.
In 1991/92 in the region of 132,000 motorcycles were stolen in the UK alone, this lead to Norwich Union withdrawing from the motorcycle insurance market, once the big player blinks the smaller companies also follow, the end result saw premiums for motorcyclists rise sharply. A solution needed to be found, the government, police, motorcycle manufacturers and the industry looked for an answer, Ken was part of this process. He shares his memories of the time; "Something needed to be done, someone had to grasp the nettle, the upshot of these meetings saw a new method of prevention come to the market, in conjunction with Yamaha the Datatag system was created. Insurance companies also offered discounts if your machine had been datatagged."
The Datatag system was part prevention but also to help identify a stolen machine, until it arrived all a crook had to do was remove the engine and frame number to lose the bikes identity, each Datatag kit gave your bike a unique code, this was etched onto bodywork and chips with the vital number were hidden inside components like forks, seats and wheels, seeing that a majority of bikes ended up being broken for spares this would help to secure conviction if parts surfaced at a later date.

But Dr, is there's a magic wand solution to not having your machine targeted by a motorcycle thief? "The responsibility lays with the owner. A recent survey of London motorcycle bike ranks revealed around 70% of bikes parked had no security fitted. You can see how these gangs can pick up 4 or 5 machines a day. The owners often accept they will lose their bike, insurance companies pay out and the cycle continues".
It's not just lazy owners thinking it won't happen to them, in this technological age even those who are security savvy are an easy target for the bike hustler. The tracker, it's a great way to secure your bike, modern systems are both cheap and reliable, but the gangs often use their own trackers that they'll attach to your locked but unattended bike, for under £20 you can legally buy a tracker.
Ken is fully aware of this sinister practice "It's something that's a growing problem, more so with classic cars, but bikes are being stolen by a thief tracking you. They'll know where you live, often watch your routine and then steal your bike when they know you aren't home".
Years ago your stereotype bike thief was a few blokes in a Transit van, those days have changed. Dr Ken enlightens "Forget Transit vans, these stolen super bikes leave the UK in purpose built transporter lorries, they are mobile workshops. Bikes are often dismantled while the engines are still hot from being left in the bike ranks. In 24 hours your pride and joy can go from being complete in the UK to being delivered in parts to motorcycle breakers in former eastern block countries, teams of people will strip the bike down in the lorry whilst it makes it way across Europe".
With motorcycle theft having no borders its organisations like Interpol that are heading up the fight back, some of their statistics are truly shocking.According to the latest information from Interpol organised criminal gangs are now operating all over Europe and are accountable for many of the 2,700 cars & motorcycles that are stolen every day. The Interpol database which is used by 190 countries throughout the world, 28 of which are in Europe, currently shows 7.2 million stolen vehicles on it.
Like they say on Crimewatch, don't have nightmares, but to avoid your motorcycle ended up being an Interpol statistic make sure you take every precaution you can to keep it secure.