DATATAG AND KENT POLICE JOIN MSV AT MCE INSURANCE BSB FINAL ROUND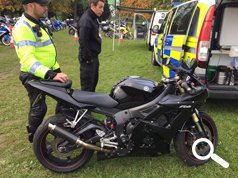 At the final round of the MCE Insurance British Superbike Championship held at the famous Kent Brands Hatch Circuit, Datatag and Kent Police, supported by the Kent and Medway Safety Camera Partnership undertook the last of this season's bike scanning operations on behalf of the industry's MASTER Security Scheme.
During the weekend over a thousand machines were scanned in an operation aimed at not only deterring theft from the circuit but also to check if any machines were flagged as stolen on Datatag's secure database.
Something which surprised the team was the number of keys found which had been left in the ignition – 6. Clearly fans desperate to get to the action!
More serious was one bike which raised suspicions, a black Yamaha YZF-R6, a common sight at race meetings. This particular machine however, when scanned by the Team returned an RFID chip number which was showing as stolen on the Datatag database. On further inspection it was discovered that other parts were identified as being from the same stolen machine. The frame however, was legitimate, indicating that although purchased in good faith this machine had been built up using stolen parts – a common practice among bike thieves.
Datatag's Chris Harrison said 'This discovery highlights the issue of criminals building bikes up around legitimate frames using stolen parts and emphasises the need for everyone when buying second hand to check frame and engine numbers to ensure they match. The Datatag technologies found on this bike have confirmed without doubt that it has been made up of stolen parts.'
PC Tony Green of Kent Police said 'Working with Datatag and MSV, supported by the Kent and Medway Safety Camera Partnership, we were able to provide a presence on the roads and car parks at Brands Hatch, during which a motorcycle was identified by Datatag markings as having stolen parts. We are currently conducting enquiries in regard to the theft and subsequent ringing of its identity.'
The innocent owner was understandably very distressed on discovering these issues with his bike and that fact that it could be seized by the police. The owner had purchased the machine second hand privately from an Internet site just 12 months previously and had no idea it was built using stolen parts saying, 'I only passed my test in September and this was my first 'big' bike. The guy I bought it off said he had to sell it as his missus had blown up her car! I've had to cancel my insurance and SORN the bike and now I'm just waiting to see if I'm going to lose it.' he went on to say 'I'm seriously out of pocket if I do as I can't think I'll get anything back. I even had the bike MOT'd and they never picked up on anything. One thing's for sure - I'll be checking engine and frame numbers as well as everything else next time!'
Kent Police is continuing its investigations.
This case highlights the benefit that the MASTER Scheme provides in ensuring a bikes true identity can be determined and that when buying second hand riders should always check chassis, engine and MASTER Scheme numbers.