NATIONAL MOTOCROSS ORGANISING BODY, THE AMCA, CHOOSE DATATAG TO PROTECT THEIR FLEET OF YAMAHA OFF ROAD BIKES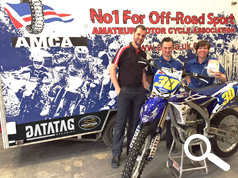 Cannock based AMCA have this week installed Datatag on their fleet of new Yamaha off road machines to act as a powerful deterrent to the ever present threat of theft.
Earlier this year, the AMCA, one of the largest organisers of off-road motorcycle sport in the UK, signed an agreement with Yamaha UK to run the official Yamaha Off-Road Experience. The Experience is already proving extremely popular with all of the 2015 days run to date fully booked.
However, looking after a fleet of new blue off-road motocross and enduro bikes is a challenge. Motocross and off-road bikes are very attractive to thieves as they are generally not road registered so very difficult to identify when stolen. To secure their bikes, the AMCA have chosen to install the market leading motorsport security marking system from Datatag. This system combines radio frequency identification tags, Datadots® and tamper evident warning and identification labels to securely and permanently give almost every part of the bike a unique identity.
AMCA General Manager Sue Potts is delighted to have Datatag supporting their security efforts, "When we took delivery of these lovely bikes my first thought was how do we protect them from theft. My second thought was Datatag and I immediately made the call to arrange installation of their specialist off road system. Protecting the bikes only took a few hours and now all of our bikes are permanently protected!"
Dave Luscombe, Datatag Strategic Alliance Manager thanked the AMCA for choosing Datatag,
"If you've been riding off road for any length of time you will have had, or will know someone who has had a bike stolen. And with so few identifying numbers on off road bikes, the chances of recovery are very small. The Datatag Motorsport System changes that and makes any off road bike as easily identified as any new car or road bike. In one simple step any owner can halve the chances of their bikes getting stolen."
The Datatag Motorsport System can be installed on any new or used off road motorcycle.
Visit http://datatag.co.uk/motorsport.php for more information
New Honda, Suzuki and KTM off road motorcycles come with the MASTER Security Scheme system as standard.