AMCA BRITISH MOTOCROSS CHAMPIONSHIPS POWERED BY DATATAG - ROUND 1 PREVIEW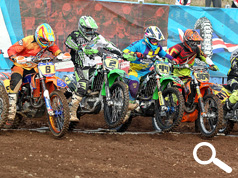 Down in good old AMCA land, it's been a very busy Winter as the likes of Apico LPE Kawasaki, FUS AMS KTM, Midwest Racing Husqvarna, Passion Racing Husqvarna and Park Lane IDS Transport KTM have been assembling their seriously talented and professional squads in preparation for the new Championship season.
On Sunday May 10th at the superb hillside circuit of Nympsfield in Gloucestershire, the teams will clash for the very first time, in the process also going head to head with a whole host of top class privateers in the opening round of the AMCA British Motocross Championships powered by Datatag. This year's series looks to not only be very high in quality but also the least predictable for many years, the only certainty being that their will definitely be a new MX2 Champion following the retirement of 2014 winner Ben Saunders.
Starting with MX1, defending Champion Luke Mellows, Clinton Barrs, Jack Cox, new AMCA Superclass Champion Richard Cannings, Elliot Barrs, Edward Briscoe, Shaun Pearce and Luke Meredith all finished inside the 2014 top ten and will compete again this year. Having been the nearly man for more years than you can remember, the unfortunate Clinton Barrs will start the campaign less than 100% fit having suffered a recent broken ankle although you can be sure that the very determined Bristolian will still be giving it his all come Sunday's racing. Another rider carrying an injury into this opener is the fast starting Arran Poolman, currently struggling after dislocating his shoulder. Other riders to watch out for include the very impressive Joe Jones, recent 3rd place finisher in the Superclass series and young Ryan Morris, having recently switched over from MX2 to compete for the FUS AMS KTM team. Proving just what a very competitive competition this will be in 2015, have a look at some of the lads who have safely negotiated the early season qualifying round. You can add into the mix the likes of top class aces James Dodd, John May, Brad Turner, Luke Dean, Luke Spence, Harry Lawrence and Jamie Powell thus indicating that the MX1 title chase is sure to be fast and furious with picking a potential winner a very difficult task!
As stated there will be a new AMCA MX2 King in 2015 but just who could be lifting that coveted crown? Expected leading contenders for honours this time around are Lewis King, Ryan Crowder, Paul Neale, Matt Ridgway, Jack Gardner, Adam Wells and Carl Benjamin, recently recovered from a Winter shoulder operation. Just like MX1 there's also a high quality list of riders having come through the MX2 qualifying rounds to have a serious bash at the title. Leading the new challenge is the very quick Josh Waterman and Luke Burton. Other new boy's on the block include Brad Wheeler, son of former G.P ace Brian Wheeler, Dan Brough, Adam Cook, Zac Stealey, Chris Povey and Aled Bellis. Making a very welcome return to the AMCA Championship in 2015 is former IMBA European contestant Matt Porter now also making a name for himself in Hare and Hounds Enduro competition.
So with the hard working organisers Dursley MXC putting in endless hours to ensure that the Nympsfield circuit will be in absolute prime condition, it's time for the AMCA British Motocross Championships powered by Datatag to commence. The Gloucestershire circuit can be found off the unclassified road which links Forest Green and Nympsfield Village, postcode GL10 3UJ, just look for the wind turbine. Racing should be underway by 11am with admission charges set at a very reasonable £7 for Adults with Children and OAP's FREE.