AMCA MX SKEGNESS BEACH RACE REACHES NEW HEIGHTS!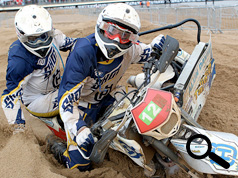 Now in it's fifth year, the 2014 AMCA Skegness Beach Race attracted it's biggest overall entry list so far topping 300 riders!
With backing from Datatag and Dunlop as well as local support from the East Lindsey District Council and the Skegness Hoteliers Association the event also attracted a record 25,000 visitors to the town for the two day spectacular.
The racing was action packed as the riders battled in the soft flyaway sand which makes Skegness one of the toughest endurance beach races out there!
Whilst Dan Thornhill won the main solo race at Skegness on Sunday as well as picking up first place in the Clubman race on Saturday, his younger brother Brad was making his debut in a three hour beach race. Showing great determination and skill, Brad eventually finished in 41st position aboard his 125cc KTM.
Sunday's main solo race proved mixed fortunes for AMCA Championship riders. Luke Meredith(3rd) and Ryan Morris(7th) were both inside the top ten before being forced out with mechanical gremlins. Meanwhile AMCA 2T competitor Harry Bradley finished in a great 10th whilst the Wainwright boy's, Sean,Peter and James got home in 19th, 22nd and 30th places respectively. Joining the AMCA ranks in 2015 will be Luke Burton with the Midlander showing great style to take a 18th spot at the chequered flag.
The Edey family certainly enjoyed the weekend. Young Jake Edey got the ball rolling by finishing 3rd in the Clubman race on Saturday and being the first Youth rider past the flag. His dad Martin then took 4th in the Quad class. On Sunday it was Jake's turn to again star, moving through from well downfield to snatch 8th in the main solo race.
Alan Davies picked up his third win at a Skegness Beach Race in the ever exciting Sidecar class.
The weekend was hailed as another huge success for the AMCA's Skegness Beach Race with both days watched for FREE by thousands of spectators. The provisional date for the 2015 event has been already set for November 7th/8th.
Visit www.amca.uk.com for full results and more pics