KTM TO FIT INDUSTRY MASTER SECURITY SCHEME AND DATATAG TO SUPPORT CUSTOMERS IN FIGHT AGAINST CRIME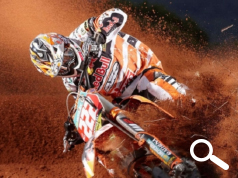 Industry high flyers KTM, riding high on a wave of recent new model launches, have announced that they have joined the fight against crime and taken the step to protect their off road customers by signing up to the MASTER Security Scheme. KTM will fit all off road models in their range, including children's bikes, as standard from June 1st*.
Theft is a major concern for the off road sector and accounts for a significant proportion of the 26,000 machines being stolen each year, many of which are never recovered. To help tackle the problem the Industry came together in 2012 to launch the Official MASTER Security Scheme, the first ever official industry wide security marking scheme. The scheme uses state of the art Datatag marking technology and was developed in close collaboration with the Police, Home Office and ACPO. The benefit of the scheme means that, as all parts are readily identifiable, criminals cannot break bikes down into component parts to rebuild and sell on.
Backed by KTM and other major motorcycle manufacturers, the Police and the Home Office, the scheme will, according to the Metropolitan Police Stolen Vehicle Squad, have a dramatic effect on theft of new machines, 'With the launch of the MASTER scheme new bikes are protected before even leaving the showrooms - this is a huge step towards defeating the criminal gangs.' Commented D.C. Simon Ashton of the Metropolitan Police.
Datatag Managing Director, Kevin Howells, said 'We are delighted that KTM have signed up to fit the Official Master Scheme. To protect their off road range including their smaller bikes, an industry first, is a clear sign that KTM are serious about protecting their customer's assets. Working with all the various race associations we are passionate about stopping theft in motocross and enduro and are confident that with brands adopting the MASTER scheme and the race organisations backing us we will see a reduction.'
Shaun Sisterson, Managing Director for KTM UK, said 'For KTM, customer relationships are paramount. What better way can we demonstrate this than by fitting the MASTER Scheme and registering on the DVLA Off Road Register our machines most at risk of theft? In this way we help ensure our customers remain our customers and can enjoy their KTM's without the worry of theft hanging over them. Furthermore our customers can buy and sell used KTM's with more confidence because each motorcycle will automatically get a V5c registration document from the DVLA when it is added to the Off Road Register.'
KTM join a growing number of the industry's top brands who, together with the industry, are doing something to end the effect of theft on Britain's bikers for good.
The Official MASTER Security Scheme, powered by proven Datatag technology comes with:
'UV' etching technology for 'stealth' permanent marking**
Unique electronic transponder combination
Datadot microscopic identification system
Warning decal, designed to complement today's machines
And is
Thatcham TQA approved
Secured by Design approved (the Police preferred specification)
*machines supplied from June 1 to June 30 will be supplied kits to be fitted after delivery.
**not included in Off Road Kits.
Existing KTM owner and owners of road going machines are at greater risk of theft than before as new machines come ready protected by the MASTER Scheme. However they can protect themselves by retro-fitting a Datatag Motorcycle Security Kit. With a retail selling price of just £89.99 and available through their local KTM dealers, Datatag's new marking kits offer protection from theft and peace of mind for owners across the UK.
Supporting Information:
Why is security marking necessary?
Motorcycle theft is a huge problem and increasing. Of the 26,000 machines stolen each year in the UK (based on 2009 figures), the majority are less than 3 years old.*
50 % of these are stolen from Greater London, with 35 machines taken from its streets each day.
Recovery rates are as low as 18 % for some types of bikes.*
Many motorcycles are broken up into parts within hours of being stolen and reassembled onto legal frames, which have legitimate log books.*
The majority of these 'clones' find their way into the legitimate dealer network, as it is currently nearly impossible for dealers or the police to identify stolen parts.*
43% of all insurance total loss pay outs are due to theft (according to MCI research).
40% of those who receive insurance pay outs DO NOT buy another motorcycle and therefore around 10,000 people leave motorcycling each year.*
For those innocent people who unwittingly buy stolen vehicles and have their bikes seized by the police, 90 % do not continue with motorcycling.*
*(Facts and figures supplied by the Motorcycle Crime Reduction Group).
To see how motorcycle thieves operate - see this short film: http://www.datatag.co.uk/motorcycle_video.html
Supporting Information: MASTER Security Scheme
The MASTER Security Scheme system has Home Office and ACPO accreditation under the Secured by Design scheme and complies with several other quality accreditations including ISO and LPS (Loss Protection Standards) for its secure database.
Early adopting members of the scheme are Honda, Triumph, Suzuki, Kawasaki, BMW, Yamaha, Zing, Zero and Ducati.
There are no annual fees when fitting the MASTER Security Scheme.
When a MASTER Security Scheme marked motorcycle is ultimately sold on, the scheme registration can be transferred to the new owner. (A small admin fee applies to transfer requests).
Information is stored on Datatag's secure database - accessible 24/7 and is both Home Office and ACPO Police Secure accredited.
Supporting Information: Datatag
Datatag technologies have been approved by Thatcham under their strict new TQA scheme.
Datatag offer aftermarket security marking kits for all machines, with specific scooter and motorcycle kits available to all second hand machine buyers.
There are no annual fees when fitting Datatag.
Many insurers give discounts of between 5%-20% off an annual premium.
Datatag website www.datatag.co.uk