ZINGBIKES TO FIT INDUSTRY MASTER SECURITY SCHEME HELPING PROTECT NEW OWNERS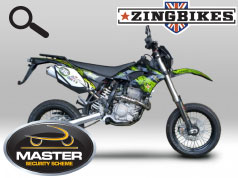 Industry rising stars ZingBikes have taken the step to protect their customers by signing up to fit the MASTER Security Scheme as standard on all of their models. The added security given as a result will bring peace of mind to ZingBikes customers as the MASTER scheme, having been developed in close collaboration with the Police, uses state of the art Datatag marking technology. This helps to prevent criminals breaking bikes down into parts to rebuild and sell on and more than halves the risk of theft.
With over 25,000 UK motorcyclists falling victim each year, theft is a major concern for the Motorcycle Industry Association. To counteract this they recently launched MASTER , the first ever official industry wide security marking scheme. Backed by major motorcycle manufacturers, the Police, ACPO and the Home Office, the scheme uses Datatag ID's proven technology in the fight against criminal gangs and, according to the Metropolitan Police Stolen Vehicle Squad, this will have a dramatic effect on theft of new machines.
D.C. Ian Elliot of the Metropolitan Police Stolen Vehicle Squad said 'With the launch of the MASTER scheme new bikes are protected before even leaving their showrooms - this is a huge step towards defeating criminal gangs.'
Datatag's Managing Director Kevin Howells said 'We are very pleased to have ZingBikes sign up to the MASTER scheme. Their range is ideal for new riders and city commuters alike and by using our technology through the MASTER Scheme to make them less likely to be stolen we are confident that owners will sleep better at night.'
ZingBikes General Manager, Paul Hinchliffe, said 'ZingBikes have established a strong reputation for customer service and after sales care, and how better can we show this commitment to our customers than by making their new purchase as safe as possible from theft? We want our customers to have fun and enjoy their bike without worrying that it might be gone in the morning, and it is another reason for choosing a ZingBikes model when making a buying decision.'
ZingBikes join a growing number of top brands who are fighting back to beat the thieves and together with the industry are doing something to end its effect on Britain's bikers for good.
The MASTER Security Scheme, powered by proven technology from Datatag comes with...
'UV' etching technology for 'invisible' permanent marking
Unique electronic transponder combination
Thatcham TQA approval
Secured by Design approval (Police preferred specification)
Warning decal, designed to compliment today's machines
Existing owners of any make can also protect themselves by fitting a Datatag motorcycle security kit. With a retail selling price of just £89.99 and available through local motorcycle dealers, Datatag's new invisible UV marking kit offers protection from theft and peace of mind for owners across the UK.
For more information, go to www.masterscheme.org for more details