YAMAHA TO FIT INDUSTRY MASTER SECURITY SCHEME TO HELP PROTECT OWNERS FROM THEFT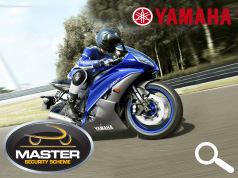 Industry heavyweights Yamaha have announced that from December 2012 all new motorcycle models* will be fitted with the recently launched industry MASTER Security Scheme. The added protection provided will bring peace of mind to customers as the scheme, developed in close collaboration with the Police, uses marking technology to stop the trend of breaking bikes down into parts to rebuild and sell on. Research has shown that marking component parts in this way more than halves the risk of theft.
With around 26,000 motorcycles stolen in the UK each year theft is a major concern
and prompted the Motorcycle Industry Association to launch the first ever official industry wide security marking scheme, MASTER. The scheme, backed by major motorcycle manufacturers, the Police, ACPO and the Home Office, uses proven technology from the country's foremost supplier of security marking technology, Datatag, in the fight against the criminal gangs. According to the Metropolitan Police Stolen Vehicle Squad this will have a dramatic effect on theft of new machines.
Datatag's Managing Director Kevin Howells commented 'We are pleased to have Yamaha sign up to the MASTER scheme, their range has many desirable models and by making them less attractive to the criminal gangs by using our technology we are confident that Yamaha owners will sleep better at night.'
Yamaha's Sales and Marketing Divisional Manager Adam Kelley, UK Sales Director said 'Yamaha is committed to helping reduce crime and fitting the MASTER Security Scheme to our products sends a clear message to that effect. We want to do all we can to ensure our customers enjoy their Yamaha without the worry that it might be gone come the morning.'
Yamaha join many other top brands that have recognised the issue of theft and together with the industry are doing something to end its effect on Britain's bikers for good. D.C. Ian Elliot of the Metropolitan Police Stolen Vehicle Squad has been instrumental in pushing this initiative forward said 'With the launch of the MASTER scheme new bikes are protected before leaving dealer showrooms - this is a huge step towards defeating the criminal gangs.'
The MASTER Security Scheme, powered by proven technology from Datatag comes with...
'UV' etching technology for 'stealth' permanent marking
Unique electronic transponder combination
Thatcham TQA approval
Secured by Design approval (Police preferred specification)
Warning decal, designed to complement today's machines
Owners of existing models can also protect themselves by fitting a Datatag motorcycle security kit. With a retail selling price of just £89.99 and available through the local Yamaha dealers, Datatag's new stealth UV marking kit offers protection from theft and peace of mind for owners across the UK.
* 126cc + Motorcycles Only
For more information, go to MASTER Security Scheme website