ZERO MOTORCYCLES ANNOUNCE MASTER SECURITY SCHEME TO BE FITTED ACROSS RANGE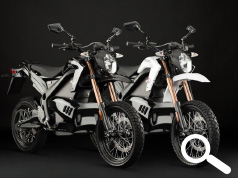 With around 26,000 motorcycles stolen in the UK each year theft is a major concern. So much so that Zero Motorcycles, the global leaderin the electric motorcycle indu stry and one of the most innovative brands to enter the market, has signed up to the Motorcycle Industry's recently launched MASTER Security Scheme.
The scheme, developed in close collaboration with and backed by the Police, ACPO and the Home Office, was launched earlier this year and uses technology from Datatag, recognised as the country's foremost security marking technology, to provide effective theft deterrent.
Research conducted by the Motorcycle Industry has shown that Marking component parts with UV etching and installing RFID transponders not only deters thieves but also stops them from breaking bikes into parts, rebuilding them and then selling the potentially lethal result on to an unsuspecting buyer. Using this type of security measure more than halves the risk of theft something which is backed up by the Metropolitan Police Stolen Vehicle Squad who helped develop the MASTER Security Scheme, D.C. Ian Elliot said 'The MASTER Scheme and the technology used will protect new bikes before they even leave dealer showrooms - this is a huge step towards defeating the criminals and we are confident that these technologies will help make motorcycle theft a thing of the past.'
Datatag's Managing Director Kevin Howells commented 'Our systems have a proven track record in both crime prevention and also prosecution and we are pleased Zero Motorcycles have signed up to help protect their new customers using our technology through the Industry MASTER Scheme.'
Dan Lynch, Country Manager of Zero Motorcycles in the UK commented 'We're pleased that the UK industry association has launched this initiative and are confident that our machines will, as a result of the protection provided, be less targeted. It's important we do all we can combat theft and our decision reinforces our commitment to this and our customers.'
Zero joins top brands such as BMW, Honda, Yamaha, Suzuki, Kawasaki and Triumph who have already signed up to implement the MASTER scheme on their new for 2013 models.
The Datatag Motorcycle Security Kit is available for all existing owners, through local motorcycle dealerships, for the RRP of just £89.99. This one off charge provides peace of mind and the benefit of the Datatag system can be transferred to a new owner should a customer sell their bike.